5 outdoor wedding venues you should definitely consider in Bangalore
Weddings can be fun outdoors as well. In a busy city like Bangalore, you might feel there is a dearth of serene outdoor venues for your wedding. Well if that is how you feel about outdoor venues, then change your thought. We have picked 5 beautiful outdoor wedding venues in Bangalore where you can host your wedding. (Order of listing is purely random)
1.The Pergola
A beautiful location to conduct any event you please, this venue covers 13,000 square feet in the dimensions of 65ft * 200ft. The sit out of this mesmerizing location can accommodate almost up to 120 chairs. The lawn area's comfort seating with the evergreen cane sofas can accommodate guests ranging from 30-40 numbers. This beautiful lawn can hold an additional capacity of 120 chairs as well with the help of an additional shamiana.  Let us not forget the rooftop garden offered by the pergola which can accommodate around 120 chairs and serves as an ideal dining area.
There is an adequate facility for water storage and other facilities as well.
Moreover, a separate utility area is available for preheating the food. However, there is no kitchen facility and cooking is not allowed on their premises. There are 2 well-furnished bedrooms accessible to the guests located on the ground floor. This location is just 2 mins away from Yeshwantpur railway station and 7 mins away from the Orion mall Iskon temple this is the ideal outdoor location to host your event.
You can hire them here: The Pergola
2. Moongate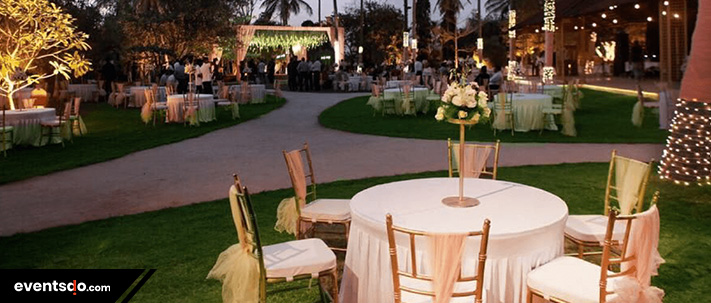 Located along 2 acres of sprawling lawn space along with cozy lakesides this is a perfect space for physical and spiritual wellness.  Moongate, as the name sounds is, in fact, a beautiful venue to host your event. Named after the traditional circular entrance that blesses a gathering and brings people closer, this luxurious venue also contains an amphitheater for music shows and plays This venue is suitable for hosting both large and small intimate events. There are kitchens reserved for vegetarian and nonvegetarian dishes. Moongate makes sure that nobody is left unhappy and involves everyone who takes part in their happiness with a dedicated boarding and dining area for drivers. There is ample valet parking space for over 600 cars and it is located ahead of bustling  Hebbal, Bengaluru.
You can hire them here: Moongate
Related Blog: Top 10 Event Venues in Bangalore
3. Aadya Farms Leisure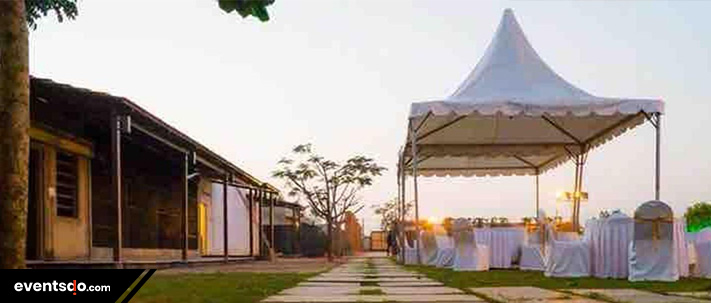 Aadya Farms Leisure is situated at Yelahanka, Bangalore.  This farm is luxurious and stylish with a unique infrastructure. The eye-catching interiors and architecture is an added bonus. It is the perfect place for a family gets together and an outdoor gathering as well.  Apart from being pocket-friendly and reasonable, this venue can also be used for an intimate wedding ceremony and related functions as well. With a warm and hospitable staff, this is indeed a perfect choice to host your event. They provide services like
·       Resorts For Corporate Outing
·       Picnic & Events
·       Exclusive rooms
·       Private Kitchen
·       Long Stay
·       Farm House
You can hire them here: Aadya Farms Leisure
4. Signature Club Resort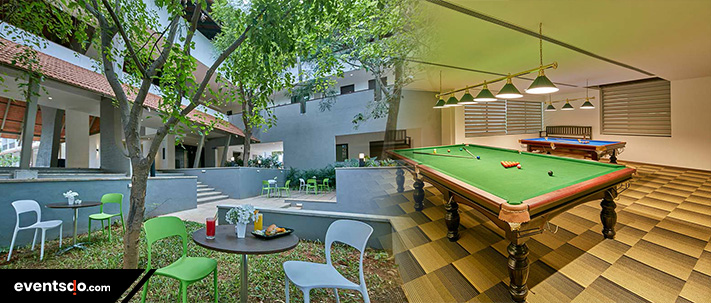 Signature Club Resort is a venue ideal to host a wedding and pre-wedding events.  There are banquet halls and lovely lawns to make every wedding look magical. There is in-house catering, in-house alcohol, and in-house DJ as well. Signature Club restaurant also provides veg and nonveg dishes that too at affordable rates for their customers. You will be surprised to see the beautiful blend of tradition and modern here. This resort has 45 luxurious rooms and suites amidst lush green landscape and they offer all top class amenities such as mini bar, work desk, wifi and more. The hospitable staff makes this place worth visiting again.
You can hire them here: Signature Club Resort
5. Panchavati the Pavillion
Panchavati The Pavilion is a magnificent venue designed to host events for groups of 500 to 2000 people at a time. It is an ideal venue to host Mehendi, sangeet, and wedding involving a large number of guests. This venue also provides a generous 10 rooms for you and your guests along with a hospitable staff who ensure your guests are left content and happy. Though they permit outside vendors they do not have in house catering.   Panchavati The Pavilion is located in Kanakapura Road,  Bengaluru.
You can hire them here: Panchavati the Pavillion
Want to know more about event venues?
We can help you plan your event, Contact us :  Call Now / chat now